Metadata Export for the ARRI Webgate dailies platform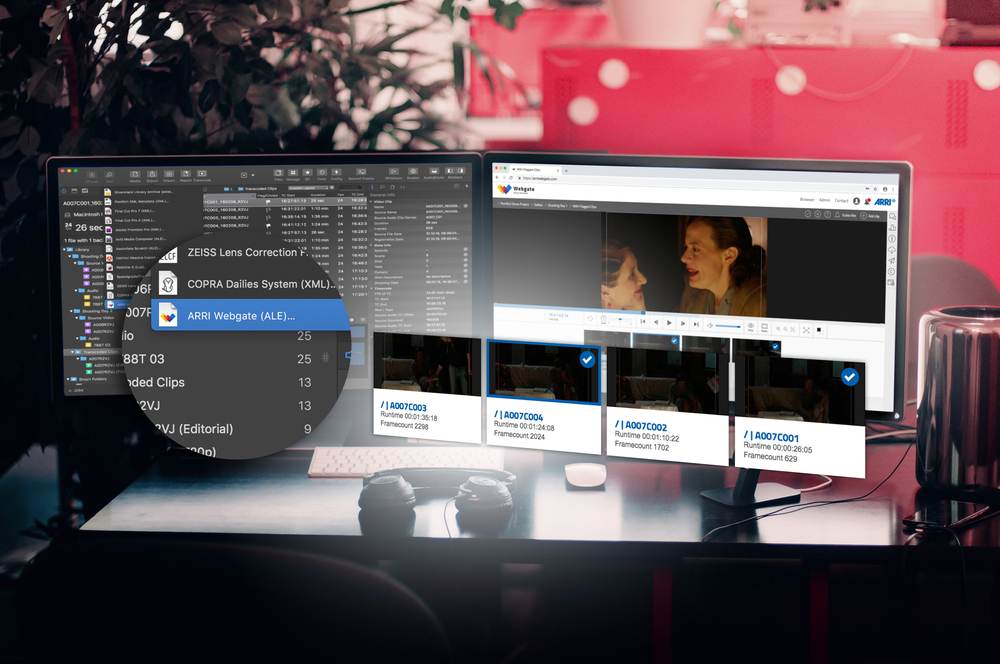 Pomfort Silverstack Lab: Metadata Export for ARRI Webgate
Use Silverstack Lab by Pomfort for your data management and as a dailies tool to grade and export your dailies. It supports Digital Image Technicians (DIT) and Data Wranglers directly on set.
Metadata Export for the ARRI Webgate dailies platform
Silverstack Lab now has a dedicated ARRI Webgate Avid Log Exchange (ALE) Metadata export function. This enables you to easily upload your rushes including metadata into ARRI Webgate. Do this directly on set, after the color grading is done. Improve your DIT workflow and easily move your data from your data management- to your dailies tool.
When exporting data for ARRI Webgate from Silverstack Lab, the latter preselects the correct export settings for you. All the metadata you have in Silverstack Lab will be available in ARRI Webgate. Information on scene, shot and take will be matched to the corresponding clip in ARRI Webgate.
From White Flagged Takes to Circle Takes
Tag your footage as 'good shots' using the white flag feature in Silverstack Lab and export your data for the ARRI Webgate dailies platform. Import your data and all 'good shots' will be tagged as circle takes. Use your metadata to keep track of your valuable shots across both - ARRI Webgate and Silverstack Lab platforms and optimize your DIT workflow.
Export and transfer your feedback into ARRI Webgate
Your team has already collected feedback on your footage or provided shot descriptions? Suggestions for improvements have been made? Your valuable feedback will not be lost when exporting for and importing into ARRI Webgate.

All comments on clips made in Silverstack Lab will be transferred into ARRI Webgate and can easily be viewed. Select a comment and the player will jump to the corresponding clip. See when a comment was made, what was commented on and who created the comment. Your creative work process can move from Silverstack to ARRI Webgate without interruptions. Provide even better feedback by using ARRI Webgate's drawing feature and draw directly on the video.

For your colleagues and teammates to be able to see and access comments, their user accounts will need the 'comment and vote' permission. The user roles 'User', 'Owner', and 'Project Admin' have this permission by default. To grant a 'Member' role the permission to see and access comments, it is sufficient to create a new role with the corresponding rights and assign it to the user. If you do not have the necessary permissions to do this, contact your project administrator, who can do this for you.
Metadata Workflow with ARRI Webgate
Metadata can be imported into ARRI Webgate via ALE files, a file format made for managing your metadata and supported by most systems. The information included in your ALE metadata file will be matched with clips in ARRI Webgate. All you need to do, to make this work is follow a few naming guidelines, further explained in our guide.
ARRI Webgate Dailies Player
Use the ARRI Webgate Dailies Player App for IOS to view your dailies and to filter and sort your shots by metadata, including scene or shootdate.
Published at: February 19, 2019 03:00 PM
Tell your friends
Webgate Blog