Kanban in VFX
Which shots will later become VFX shots is already known before filming. After all, the number and complexity of the VFX shots is a decisive factor for the film's production budget. The list of VFXs ranges from complex 3D animations to crowd replications, wire removals and comps of all kinds. In addition to the planned shots, unforeseen VFX shots can also emerge; for example when an airplane sneaks into a shot in a western and has to be erased.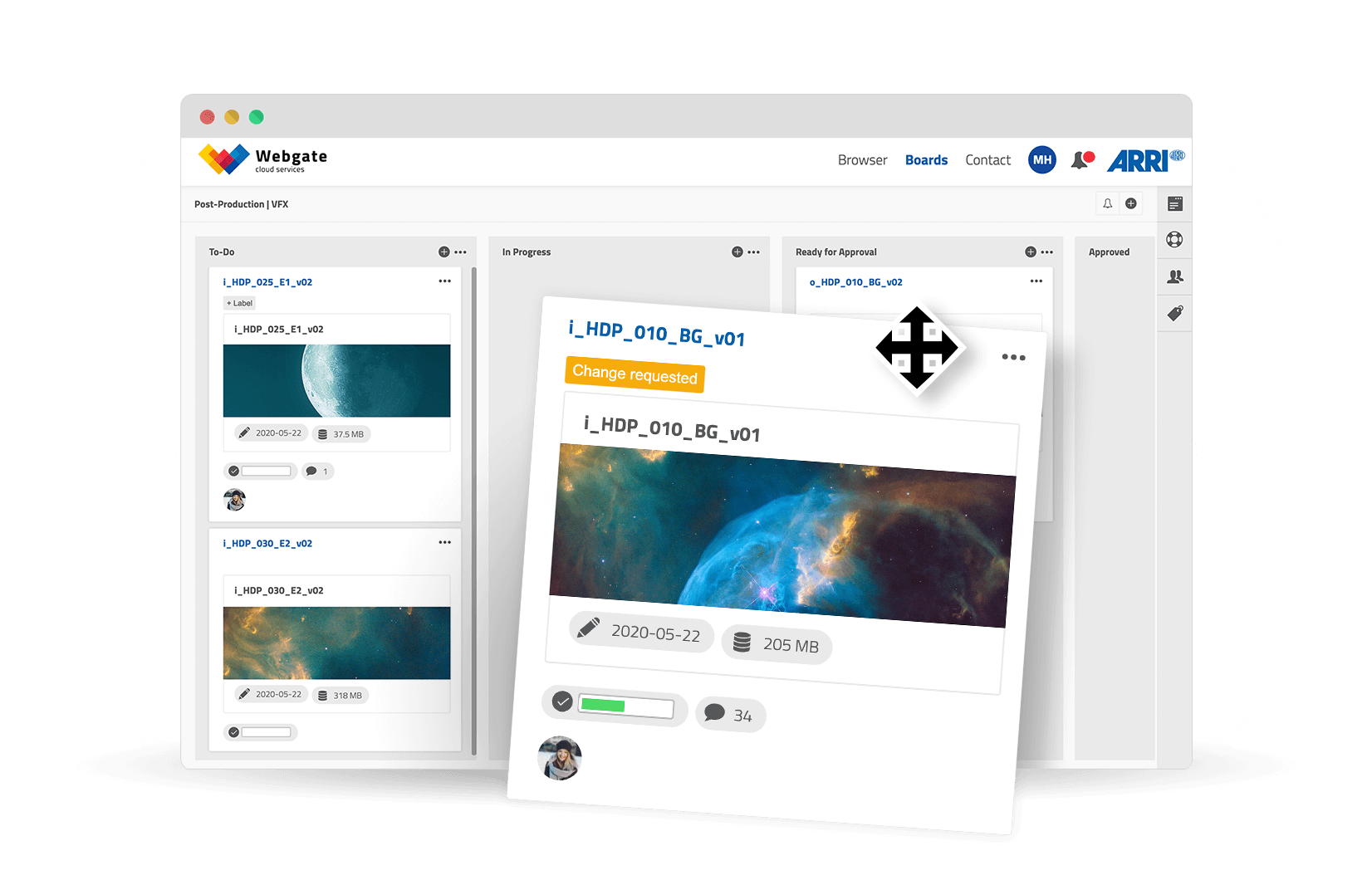 The standard VFX procedure
Before a planned VFX shot is processed, the take goes to the editing room, where it is decided which part of the take will be used for how long.
After processing in the editing room, the VFX shot then goes through an approval loop, ideally in the grading suite. Tools like Webgate can be used if an approval has to be given remotely. The VFX shots are provided through Webgate and approved online. Shots often go through several loops, each with new changes, before they are ultimately approved. The final, approved version is then sent to the editing room, where the clip is edited in and logarithmic HighRes files are sent to Conforming.
A VFX Kanban board could contain the following columns
A To Do column, an In Progress column, a Ready for Approval column, an Approved column and a Delivered column. Unlike with a standard Kanban board, cards are not made for tasks, but for individual shots. When a VFX shot is ordered, you create a card bearing the name of the clip in the To Do column, and fill it with the required information, i.e. a checklist for how the shot is to be processed, e.g. a wire removal and a stabilization. When an artist starts the processing he/she allocates the card to themself and moves it to In Progress. Once a first version is created and rendered, the artist moves the card to Ready for Approval and allocates the card to the in-house producer, who then has to organize the subsequent approval step. If the director/customer does the approval check and wants a change, they note this on the card and it gets returned to the To Do column. It goes back and forth between these two columns until the shot is approved, when the card is then moved to the Approved column. When all derivatives are created and delivered, the card is moved to the Delivered column and that task is finished.