Manage all metadata in one place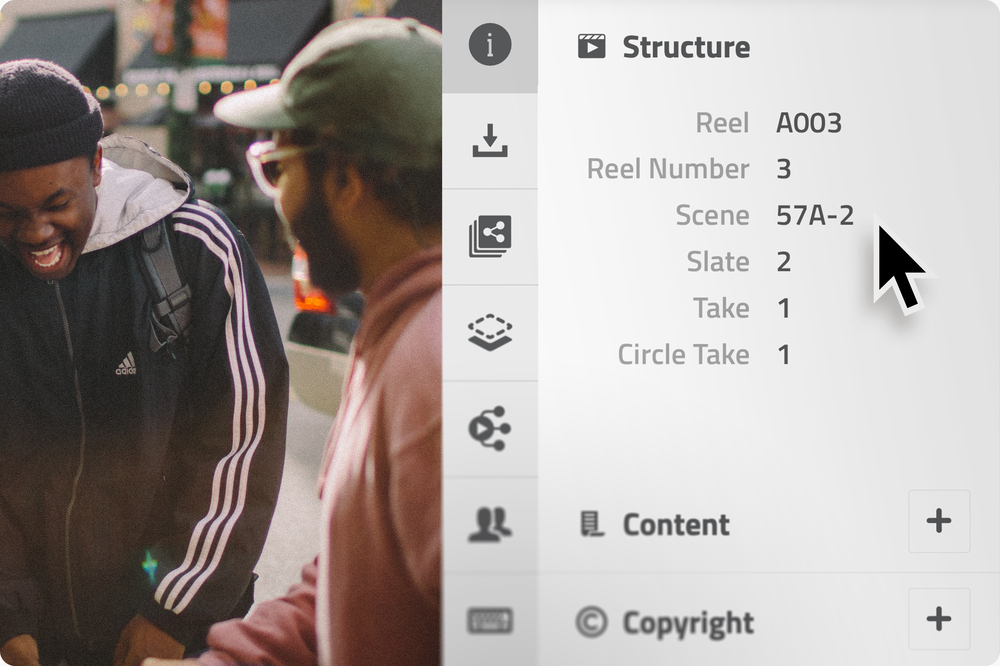 With the help of metadata, important information is stored in the files that can facilitate your entire workflow. These should be maintained and completed from the beginning to the end of your project. In addition to technical data like frame count, time code, bit rates, they can also contain content information such as reel, scene, take and QA comments. These are collected during the production by the camera, the DIT, the Script Supervisor or the Editor.
Webgate.io offers a faster and more efficiently way to edit and create metadata within your image and video production. Once you have uploaded your data Webgate.io starts auto-crawling your files for technical metadata. Collected metadata can be imported via an Avid Log Exchange file (ALE) and automatically assigned to all your clips of a shooting day.
Webgate.io now offers a simple interface to manually change metadata of your organized inventory of data assets and your managed shooting days.
When opening the info sidebar, you can view images/videos and edit the metadata at the same time. If you change a picture or clip, the sidebar will be updated as well. This allows you e.g. to change slate information of videos more efficiently. Webgate.io allows you to search by specific metadata fields or combine searches in order to filter results. With existing scene information clips of the same scene from A and B camera will be shown next to each other.
Published at: January 24, 2022 08:00 AM
Tell your friends
Webgate Blog